Remember when we discussed how when we blog it's our choice?
A Dr. Phil episode was the inspiration for that post and it was also on that show Dr. Phil stated,
Being busy is a status symbol



My first thought was, "Surely that can't be true".
Being busy, a status symbol?
But, based on an article by Brigid Schulte, who was a guest on the show and who wrote an article for the Washington Post titled, "The Test of Time: A busy working mother tries to figure out where all her time is going", busyness may indeed be something many are striving for.
In the article Brigid cites cultural sociologist Edson Rodriguez who says,
Every-body who aspires to be anybody is busy.
Gone are the days when the goal of the wealthy and elite was to laze around doing nothing. These days, even billionaires are on tight schedules. "We derive status from feeling overwhelmed,"
But, leisure scholar Ben Hunnicutt argues,
To the Greeks, a life of leisure was a human's highest aim. Liberated from work, one could devote his or her time to the pursuit of the higher arts such as poetry, art and music. (Though this applied largely to men.)
[Whereas] Americans devote their lives to work. "Work now answers the religious questions of 'Who are you?' and 'How do you find meaning and purpose in your life?'"
Hunnicutt goes on to say,
Leisure has been trivialized. Only silly girls want to have time to shop and gossip.
To be idle is to be unproductive. To waste time.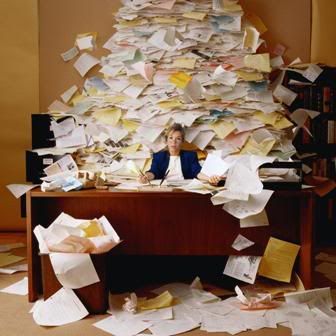 Does that mean if we look busy to others, we are projecting importance?
Or,… on the flipside, if we don't appear to be busy, does that mean we're lacking status. That we are "less than"?
I say, "No".
Today's Lesson
Let's take this busy issue  a step further and apply it to bloggers.
Are we falling into the same trap?
I'll admit, I've said "I'm busy" or "I'm swamped" more times than I can count.
In fact, when I started The Blog Boutique, I voluntarily added even more to my plate.
And I see others doing the same.
We start one blog, and then add another, then join a social network or two, and publish ebooks, or add a service, and ___fill in the blank___.
We pile more on, and then state how busy we are, often making it sound like a complaint. Or for some, a bragging right.
But, Brigid also shares,
Rodriguez studies middle-class frenetic families. He's finding that, although people say they feel overwhelmed, they secretly enjoy it.
I'll go a step further and admit I not only enjoy being busy, but I thrive on being busy.
In fact, I feel I do my best work when I'm under pressure, whether it's self induced or other.
Unfortunately, busyness both off and online also creates the perception we may be unapproachable. We may appear to be so busy, others will go elsewhere for advice or for a service.
After all, if we know someone has a plate full, we certainly don't want to add to their burden.
I'm that way. Although I have approached several A-list bloggers for an interview, when I did, I felt I had to apologize for asking them to take time out of their busy schedule to answer my questions. In some ways I felt my request was an intrusion.
I don't know about you, but that's not how I want to appear.
Although my plate is full, I have another stack waiting for more.
What about you?
Today's Assignment
Do you thrive on being busy?
Or do you prefer to have more down time?
Will you approach a blogger if they "appear" to be too busy?
Care to share?
.